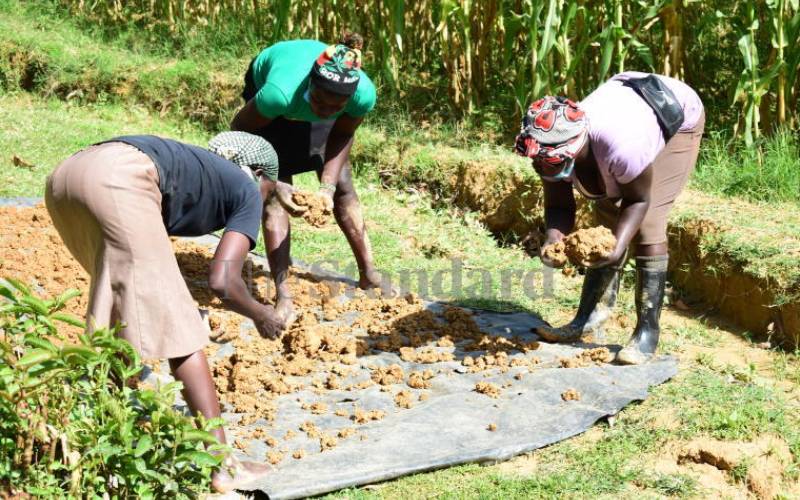 A few barefoot women are busy sieving powdered gold ore into troughs at Isulu gold mine in Ikolomani Constituency.
They go about their duties in groups of three to five, oblivious of the dangers they are exposing themselves to.
Working without protective gear at the gold mine exposes them to toxic substances, including mercury and sodium cyanide.
Some of them lay a sackcloth on a slanted rack. Here, they mix the gold dust with water and splash it on the sackcloth used as a sieve to separate fine particles of the precious metal from the ore.
"If you want to get fine particles of gold, then you have to wash it with bare hands using mercury. Wearing gloves could make you lose a lot of gold," says Stella Inzofu.
Inzofu, a teacher by profession, has been in the business for about four years. "I frequent the gold mines during weekends and holidays to look for the precious metal," she says.
She spent a lot of time at the mines when schools were closed for nine months during the Covid-19 pandemic.
Like other women miners, Inzofu says despite the earnings, she has had to pay a heavy price: "My hands have blisters and are calloused as a result of mining activities. I have the same problem with my feet."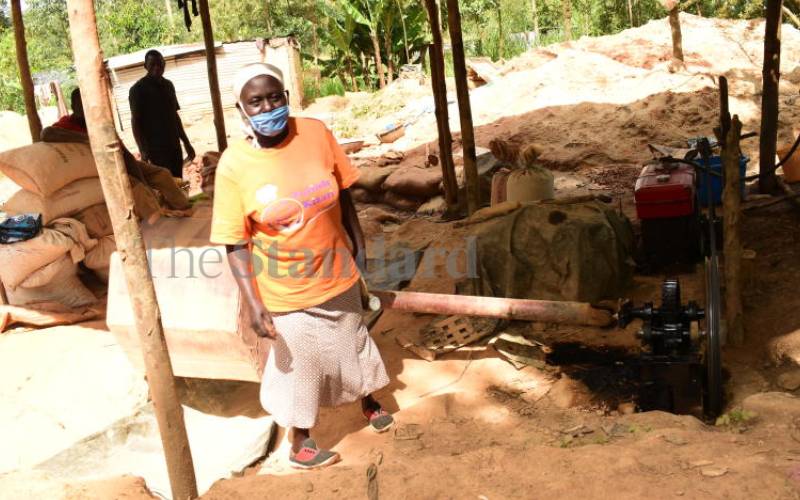 She says her hands started developing rashes that became painful sores.
"When they discovered I was a gold miner, they carried out more tests and found that my digestive system was partially damaged due to inhalation of mercury amalgam," says Inzofu.
She says she could not report to work for a couple of weeks while recuperating in hospital and at home.
The World Health Organisation (WHO) warns that prolonged exposure to mercury and sodium cyanide used in gold extraction damages the nervous, digestive, and immune systems, and has been known to affect developing foetus.
Josephine Liyabuye, a gold miner, says extraction of gold using mercury is a ticking time bomb.
"I have seen many pregnant women suffer miscarriages or die in the 10 years I have worked in the gold mines," she says.
Liyabule says young children have also been affected in the process. "Breastfeeding mothers carry their babies to the mines where they expose them to mercury."
Martha Nyaleso says she experienced three miscarriages in a row until a doctor advised her to stop working at the goldmines.
"My husband was disturbed and wanted to marry a second wife because I was not able to carry a pregnancy to term," she says.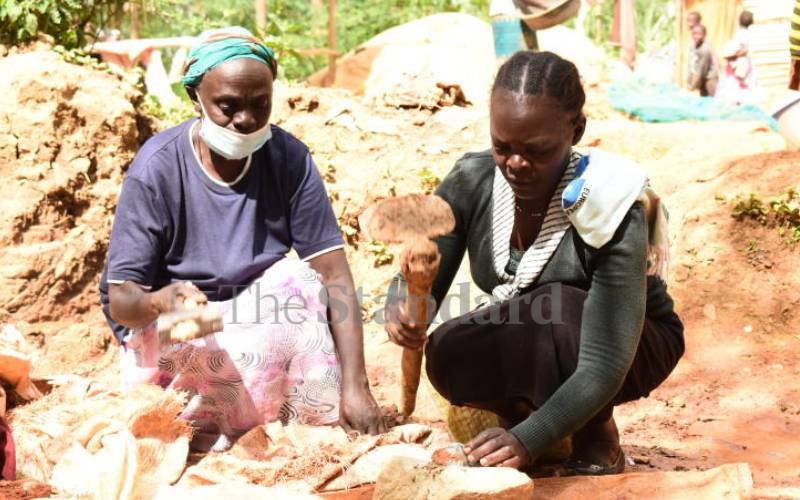 Doctors discovered that Nyaleso had high levels of mercury in her blood, following overexposure and inhalation of mercury amalgam.
So far, 300 miners have been identified in the area to receive Sh800 million grant from the United Nations Development Programme.
According to Patrick Makhule, the Secretary-General of the Kakamega County Artisanal and Small-Scale Miners, the funding aims to help the beneficiaries acquire modern equipment for extracting gold and eliminate the use of harmful mercury.
But medical experts have raised the alarm over ongoing artisanal mining of gold in the area, which exposes residents to health complications.
According to Dr Joshua Azere, over-exposure to methylmercury, the organic form of mercury used in gold extraction, causes devastating effects on the neurological system.
"The effects range from movement disorders, behavioural changes, hearing and visual changes, memory loss, difficulties in breathing, among other effects," said Dr Azere.